High quality installation services for all lighting and electrical systems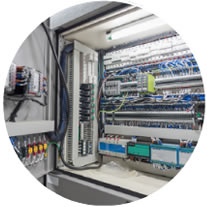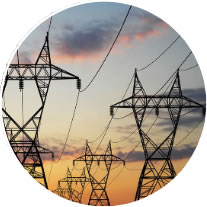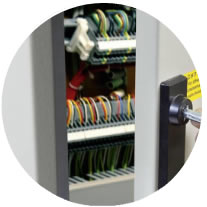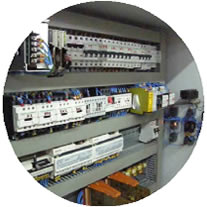 Electrical distribution
and control
Electric conductors
and cables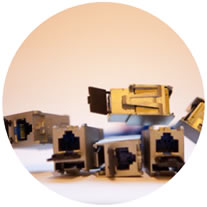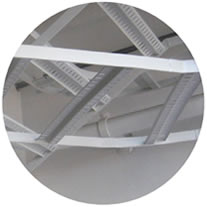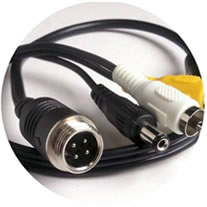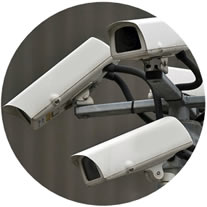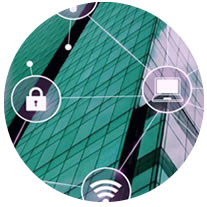 The building technical management and control system (BMS), is a data acquisition and processing system to facilitate administration and save energy, configured in local automation stations integrated in a central dispatcher. We offer complete design, execution, commissioning and maintenance services for BMS-type systems. A BMS system can integrate:
HVAC installations (heating, cooling, ventilation);
Sanitary installations;
The lighting system;
Electrical and thermal metering;
General distribution boards and consumer electrical boards;
Generator sets and UPS;
The elevator system.
Monitoring the operation of equipment and machines;
Interfacing with fire detection, burglary, access control and CCTV systems, etc.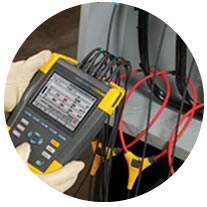 In order to avoid damage over time to electrical installations, as well as for commissioning, periodic checks are necessary that include a series of measurements such as: insulation resistance, loop impedance, short-circuit current, dispersion resistance of the earth sockets , the continuity of the grounding belt, checking the protection devices, including the differential circuit breakers, etc.
We hold the necessary authorizations for carrying out tests and issuing PRAM verification bulletins.
Measurements and checks for the commissioning of electrical installations;
Measurements and checks for the commissioning of automation and instrumentation installations;
Issuance of verification slips;
Periodic measurements and checks for: low, medium voltage electrical installations and apparatus, automation installations and field equipment, grounding installations and lightning arresters;
Cathodic protection;
Equipment embedded in constructions;
Periodic revisions in electrical installations;
Measurements and checks regarding energy quality;
Measurements P.A.T.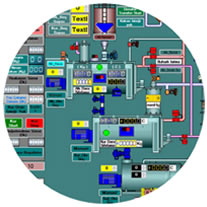 It designs, develops and implements complete solutions for SCADA SYSTEMS that have multiple applications in production and industry.
The SCADA systems installed by our team ensure:
Data analysis, report generation and information display;
Control and monitoring protection, automation and specific interlocks;
Event and alarm processing;
Basic processing of signals and measures;
Sequencing events with associated time in stations;
Presentation of information in curves and reports; Fully graphical user interface;
Archiving measures for established durations and samplings;
Calculations with quantities in the system;
Operative control functions;
Managing the process by commanding the regulators;
Use standard, open and interoperable protocols, such as IEC 60870-5-101/103/104, IEC 61850, Modbus, DNP3.
Used equipment:
Analog and digital I/O acquisition modules;
Control sensors and relays;
Remote Control Units (RTUs);
Programmable logic controllers (PLC);
Programmable automata (AP);
Communication and data visualization equipment;
Process servers;
Database servers, diagnosis and maintenance.
Services:
Design and engineering;
Programming PLC, SCADA, HMI, other equipment;
Configuration of management reports;
Project progress monitoring;
Wiring and installation;
Warranty and post-warranty maintenance;
Development of documentation for Execution Details and
Construction Technical Book; Commissioning of the system.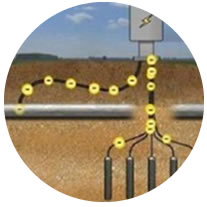 AND EXTENDING THE SERVICE LIFE OF THE ASSETS
Exe Green Holding offers outstanding return on investment through cathodic protection and pipeline stress mitigation products.
Services offered include:
consultancy
design and installation of cathodic protection systems
design and installation of automatic systems for cathodic protection
We offer a wide range of solutions of:
corrosion engineering
expertise in the installation of cathodic protection (PC) systems
field service
project management and pipeline stress mitigation services
turnkey engineering for corrosion protection in industrial applications
pipeline integrity management services
The sensitive fiber optic system is an advanced detection system specially designed to ensure the physical security of buried pipes.
The system uses an optical fiber sensor cable buried along the pipes that detects and locates ground vibrations and the acoustic signatures associated with various activities. A single sensor cable buried along the pipeline can provide protection up to 72 km / 80 km, with a localization accuracy of +-10m. The fiber optic sensor cable can detect very fine temperature changes of 0.00005 degrees C.
The optical fiber picks up the vibrations of the soil / surrounding environment, which translate into light guide wave losses, thus being able to locate the location of the break-in along the pipeline with millimeter precision. The optical fiber is sensitive to temperature changes. Similar to the capture of vibrations, the optical fiber receives and translates the temperature changes, turning them into losses on the light guide, thus being able to detect temperature changes with a precision of 10 -4 o C.
The sensitive fiber optic system uses a single mode fiber optic cable. The fibers used can be one or two fibers, the difference in fibers being used for communications.
Invisible and undetectable buried sensors
The sensor cable continues to function until the cut point
100% cut immunity in redundant configuration
High probability of detection, low rate of unwanted alarms
Software configurable detection zones
It does not require infrastructure for power or communications
Immune to electromagnetic fields or electric discharges
It does not require equipment or grounding points in the field
Precise location for directing intervention forces
Field components are intrinsically safe
Alarms reported by zone number, cable distance and/or GPS coordinates
Accurate location of multiple simultaneous intrusions
Multiple integration options with SMS, VMS and PSIM platforms
Easy to install and maintain
Cost-effective