We are the promoters of technology and innovation!
We offer and implement a wide range of smart solutions with the aim of making citizens' lives easier.
Products that upgrade cities or companies in connected, interactive and energy efficient environments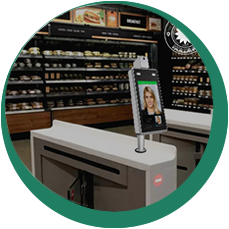 Access control with facial recognition
Body temperature reading
Face recognition with mask
Alert when a parameter is violated
Multilingual alerts
Face and eye recognition
Data storage
Easy to install – on stand or wall, vertical gate support
SENSORS
Heinemann, accurate, consistent, fast response
ACOUSTIC
Voice alarms for various violations. Available in more than 30 languages
SCREEN
Useful for correct adjustment of the person's face
MEMORY
Up to 100,000 can be stored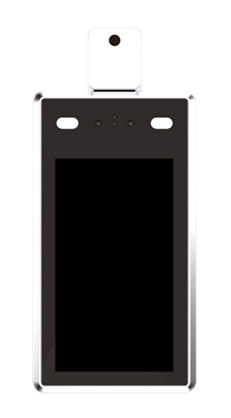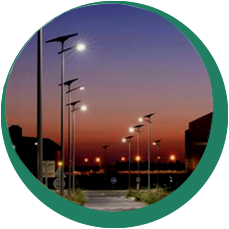 Photovoltaic street lighting
The Smartlight range is made up of products that offer high efficiency and long lighting periods, according to public standards, and can be used anywhere.
We are dedicated to delivering as many energy-efficient public lighting solutions as possible, for all infrastructure projects, being one of the biggest contemporary challenges related to the environment
SMART BATTERY
Software and high power NiMH battery
POSTS AND ACCESSORIES
Galvanized steel, powder coated, complying with EN40 high wind standard.
PHOTOVOLTAIC MODULE
No maintenance required. High-efficiency crystalline cells for optimized capture of the sun, regardless of weather conditions and 30-year operating guarantee.
HIGH EFFICIENCY LED LAMP
High performance LED lamp, 180lm / W
From 20W to 120W to meet all the needs of our customers.
20-year operating guarantee.
LoRa technology is used to control and manage the system.
Wide network coverage approx. 15 km
Ability to remotely control each pole to allow the user to obtain real-time data on the status of the street lighting poles.
The only solar lighting source that is fully functional regardless of weather conditions. 365 nights / year – OUR GUARANTEE.
Field-tested, reliable technology with many worldwide deployments.
A green, ecological, sustainable energy resource. Zero carbon emissions.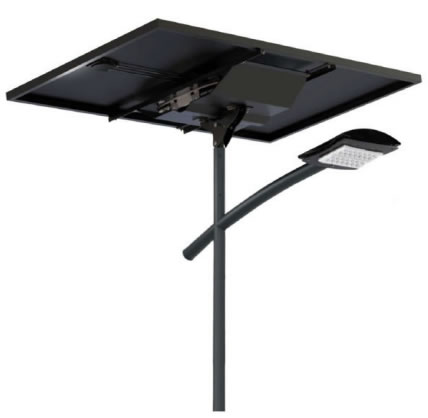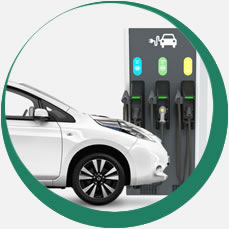 Charging station for electric and hybrid cars
Whether it's charging stations for home or office, public or private, slow or fast charging, car or bus, we can offer you the right solution.
Our suppliers are well-known European manufacturers, and the equipment has implemented the OCCP15s or OCCP16j connection protocol for communication between electric vehicle charging stations and a management system.
For any charging station we offer a full range of services to our customers in terms of service and warranty:
• Maintenance contract;
• Warranty extension;
• Dedicated technical support.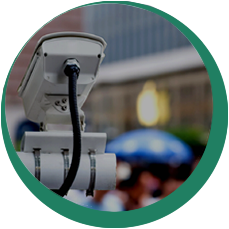 It is meant to provide a real-time picture of a city from all points of view by connecting all available sources of information. The system identifies patterns and suggests alerts and possible immediate actions on them.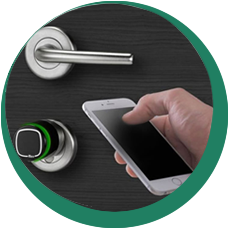 The new access control system is based on an innovative technology, with an advanced credential reader incorporated as standard. It allows the user to use various devices for access management, such as cards, bank cards, RFID tags or mobile phone.
The access control system has a fluid and aesthetic design that allows it to be easily placed in any scenario and adapt to any architectural style.
Benefits:
• Bluetooth technology;
• can be used to open any door using a smartphone;
• through our application, the administrator can manage and control access;
• no internet is required for this process;
• a device is available for more than 300 users;
• easy transfer of the list of users to any device;
• administrators can access the last 1000 accesses;
• free software upgrade;
• any device using NFC technology can be used to access the device:
• credit card, smart card, etc.
The introduction of LED technology has significantly reduced carbon emissions in the field of public lighting. Exe Green Holding proposes the optimization of the LED lighting system by introducing IoT technology aimed at further reducing consumption and bringing to the beneficiary reports and statistics regarding the street lighting system.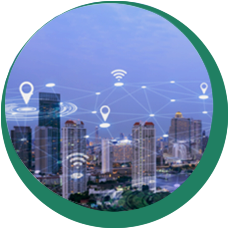 Smart system for parking management
The sensors used have integrated radar technology to detect the availability of parking spaces, with the aim of meeting the growing demand for greater accuracy of smart parking devices. The new intelligent parking gateway improves the detection performance and stability of radar sensors solution that allows accurate (99%) detection of vehicles parked above the device. When the device notices a change in the parking status, it sends the data to the cloud via the LoRaWAN network in the management application.
Models and sensors for Smart Parking
• Enhanced detection through combination of radar and magnetic technology.
• Better performance and stability
• IP68 protection and fully certified (CE and FCC).
• Three installation modes (surface, buried, semi-buried).
• Almost zero maintenance is required.
• Over-The-Air (OTA) configuration.
• LoRaWAN communication protocol.
The smart parking solution can reduce:
• Traffic volume by: -8%;
• Gas emissions by: -40%;
• Km. traveled with: -30%;
• Time in traffic by: -43%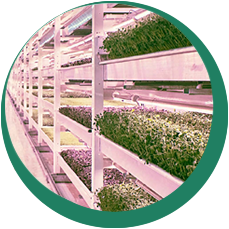 Smart lighting in horticulture
Innovative lighting technology supports the efforts of vegetable and medicinal plant producers to cultivate in completely closed spaces and obtain profitable crops with an optimal energy yield.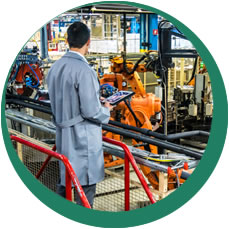 The main challenge of every business in Industry 4.0 is the collection of quality data in real time, providing intelligence and reliability to production processes and feeding relevant information to the KPIs of each decision level. This system can be applied not only in industrial and/or food production processes, but also in logistics and transport. Direct connection to productive processes using IIoT and also to control devices and instruments is the cornerstone of the digital transformation of modern industry. Through the Scada systems, in addition to viewing the processes, it is possible to intervene directly on them using remote control.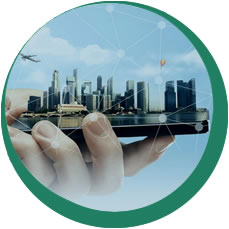 Smart City Digital Solutions
The digitization solution is an integrated software solution for digitizing the interaction between public institutions and citizens, simplifying and improving the work of civil servants, as well as for the significant reduction of bureaucracy in local public institutions.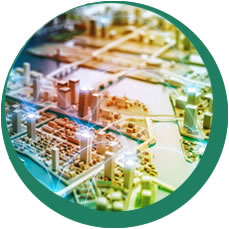 The infrastructure of a Smart City is somewhat the introductory step for establishing the overall framework and architecture of a Smart City. Very few Smart cities have been established recently around the world that adhere to this concept. Such a smart infrastructure could be viewed as a cyber-physical system that ensures a comprehensive management of all the elements it comprises through various technological tools that help compile and analyze data to meet the goals of efficiency, sustainability, productivity and safety of the entire system. A unified approach from the first steps towards the smart city will make the road easier. Exe Green Holding has the specialists, professionalism and technology needed to implement such a structure in your city.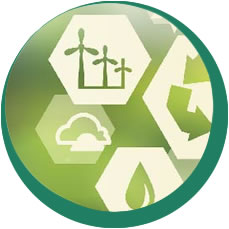 Smart Environment Solutions
Smart Environment is a product designed to detect different parameters and polluting gases that influence air quality. Smart Environment solutions are based on sensors that take data from air quality analysis, being energy independent, capable of providing data, statistics and reports that can be displayed in public places or can notify means of alerting the population.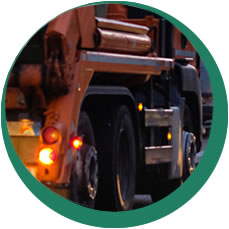 Smart Solution for Waste Management
The IoT waste management solution enables cities and industries to manage their waste efficiently, reducing the environmental footprint and improving the quality of service. Through such a system trash cans, bins, containers can be integrated into an intelligent system (IoT) for an optimal planning of waste collection, with direct advantages in reducing traffic and traffic jams, gas emissions and fuel consumption.
Water management activity affects several sectors: agriculture, animal husbandry, industry, services, life in cities and villages… Monitoring of drinking water, detection of chemical spills in rivers, real-time control of spills in the sea, tracking of pressure variations of along pipelines and checking water quality in facilities such as fish ponds, swimming pools or beaches and swimming pools are just a few examples.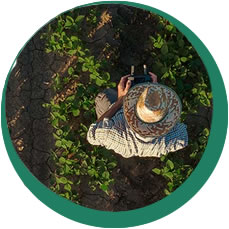 Smart Agriculture Solutions
Smart agriculture or "precision" agriculture as it is also called refers to the management of all the variations in the field to increase the yield of crops or livestock, to increase productivity and reduce the consumption of agricultural inputs.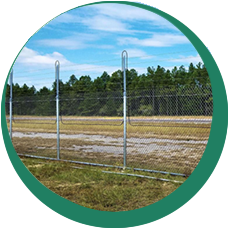 Perimeter security system
The fiber optic intrusion detection system is an integrated hardware and software platform. The system consists of a digital exchange, communication modules and optical fiber.
The perimeter security system incorporates machine learning algorithms and 3D perception to identify, track and classify objects.
This system is the way of the future for security applications, replacing traditional solutions such as radar and microwave sensors.
The powerful security platform is fully integrated into existing infrastructure, providing surveillance automation with real-time people detection, classification and tracking.
They can be used for: • Airports • Borders • Critical infrastructure • Data centers • Maritime and Ports • Military and nuclear facilities • Refineries and pipelines • Gas and power utilities • Prisons.
Exe Green Holding este un integrator de soluții end-to-end, având echipa, know-how-ul și tehnologia
pentru a se implica în orice tip de proiecte industriale, comerciale sau rezidențiale