We offer and implement a wide range of smart solutions with the aim of making citizens' lives easier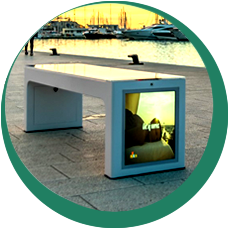 The EXE solar bank replaces the traditional bank with a wireless, ecological solution with zero carbon dioxide emissions. The proposed intelligent urban furniture incorporates technologies of the 21st century: WIFI, wireless phone charging, LED lighting, air quality analysis or media content upload.
WIRELESS CHARGING
High efficiency and fast charging
PHOTOVOLTAIC MODULE
Monocrystalline type panel, maximum
STRUCTURE
Size 178x45x50 cm, weight 88 kg, electrostatically painted hard steel, extremely durable in all weather conditions
LOADING
VIA USB 2 ports for USB
STRUCTURE
Size 178x45x50 cm, weight 88 kg, electrostatically painted hard steel, extremely durable in all weather conditions
BATTERY
AGM type, capacity 0.86 kW / h
SUPER BRIGHT DISPLAY
Size 19 "/ 1000 cd / sq.m
For ads, video streaming, information, etc 
INTERNET
4G LTE / speed up to 150 Mbps / 4-20
SENSORS
Temperature (-45 °, + 60 °), humidity (0% – 100%)
Energy produced and consumed
Internet connection and data usage
Battery status
Rain sensor – emergency stop in case of flooding
System analysis
COOLING SYSTEM
Cooling type / 4 holes
Air flow 370 m3 / h
The system is set to maintain the surface of the bench temperature at max. 35°C
SURVEILLANCE CAMERAS
4 rooms, one on each side
360 ° live broadcast
Intelligent waste management solution
The SMART Trash Can is an IoT device that automatically sorts and compacts recyclables. It combines unique AI-based object recognition, fill level control and data processing to make waste management convenient.
This SMART bin optimizes waste management in your facility, saving you money, time and manpower. Ensures accurate sorting of discarded waste through automatic recognition and segregation. Thanks to the compression of plastic and paper, the frequency of emptying the bins is reduced by half.
Automatic notifications when one of the containers is full allow for more efficient management of employees' time.
The application shows the filling level of each fraction and the status of the device in real time.
The IoT waste management solution enables cities and industries to manage their waste efficiently, reducing the environmental footprint and improving the quality of service.
Through such a system, trash cans, bins, containers can be integrated into an intelligent system (IoT) for an optimal planning of waste collection, with direct advantages in reducing traffic and traffic jams, gas emissions and fuel consumption.
Waste is the largest source of greenhouse gas pollution in a city.
Benefits of the IoT solution for Waste Management:
Reduce operational costs
Reduce your environmental footprint
Achieve greater efficiency and optimization
Get high quality service
It increases the welfare of citizens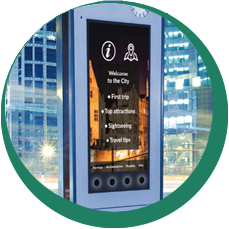 For e-ink technology, for example, public transport timetables display clear, legible images that do not flicker, are easy to read from wide angles, and the content is clearly visible even in bright sunlight.
This device is a "master" when it comes to saving energy: the power being consumed to update the information and thus it can come sufficiently for example from a solar panel.
This is a good solution where the power grid is not easily accessible. All equipment has a casing made of steel, aluminum or other special non-flammable material with high resistance to vandalism. The machines work 24/7, 360 days a year.
Information is updated through a 3G/4G network, but it can also be another type of connection depending on the specific solution and is managed centrally.
The EXE bus station impresses with innovation and technology, having a photovoltaic module for power, USB charging ports, wireless charging, WIFI Router, advertising panels, LCD display, built-in trash can and video surveillance system in steel and glass, all creatively combined on a steel structure.
Exe Green Holding is an end-to-end solution integrator with the team, know-how and technology
to engage in any type of industrial, commercial or residential projects